This round of Fun Dollars found me surprisingly chilled out and relaxed...after the fire was put out, that is. I felt uptight about the prospect of summer at home with both kids, but after two weeks (and a little stay-cation) I feel like Super Mom. I took control of our snack situation this week, which fueled a sense of accomplishment and peace about the house. Just having food for two children can turn into an all-day ordeal. I was determined to stick to our agreement (between Corey and me) to not resort to sugar for snacks. No gummies, fruit roll-ups, chips, chocolate or icee pops. So, what I did instead was buy coconut popsicles for Carrick to get us through that first week. Corey had no objections to Julie's Organic Coconut pops. I also indulged in a little tub of almond-based ice cream for me (Praline Almond Dream....sooo good!)
After that first week at home, I found a new sense of confidence in the kitchen. I made a smorgasbord of healthy snacks that the kids could just reach in and grab. If it wasn't in the fridge or the fruit bowl, they couldn't have it. I chopped melon, diced pears, sliced apples, peeled mango and cubed pineapple. I filled tiny, condiment-sized cups with these delicious treats, and the kids (even Lily) became independent with their snacking. Not only did this keep them from begging for sugary treats, it kept me from giving in and spending my own Fun Dollars. Granted, I bought Carrick coconut pops, but after he finished the box in the first week, I made home-made ones that he liked just as much.
I used grocery money to get a carton of coconut milk (in the regular milk section) and I blended it up with a banana and pineapple juice. Pina Colada pops were all the rage at the Sheridan house this week. Zero Fun Dollars spent on treats. I filled up an ice cube tray and covered it with cling wrap. I poked holes in the wrap and stuck Popsicle sticks into the "ice cubes". Lily could eat them too, and they really helped with her cutting a new tooth.
I also decided that while fruit and nuts are nice, I needed a little something for myself, not quite chocolate, but something like that to stave off the urge to just buy a candy bar. Luna Bars were on sale at Natural Grocers, so I bought 4 of them. Caramel Nut Brownie and S'mores were my favorite out of the bunch. No Snickers bars for me!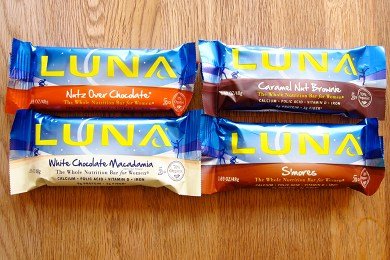 Last night, was perhaps the crowning moment of snackage so far. I used a frozen banana and coconut milk as a base. Then in one cup, I added frozen mango chunks, and in the other cup I added cacao powder. Five minutes later, my NutriBullet had made "ice cream" and we had an ice cream party at the dinner table! With Lily on my lap and Carrick next to me, I felt like Super Mom again. Ice cream that had no added sugar, no cow's milk, and I could let them enjoy as much as they wanted because I was okay with what I was giving them. No guilt, no bargaining, just fun.
Corey and I also enjoyed splitting a bottle of wine and a six-pack of Angry Orchard Hard cider with our Fun Dollars.
By planning and using some creativity, I managed to have both kids at home for the summer, and not resort to fast food, junk food, treats or last-minute pizza. This pay cycle was truly Happy Spending!
Julie's Coconut pops and Almond Dream ice cream- $10.00
Angry Orchard and Nobilo Sauvingon Blanc split with Corey- $10.00
4 Luna Bars at Natural Grocers- $4.00
Balance this pay cycle- $1.00
Happy Spending!